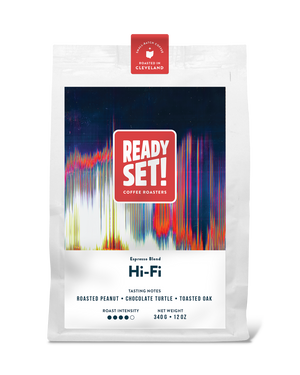 Hi-Fi (Espresso Roast)
ELEVATION:   3,000 TO 4,000 FEET
PROCESS:  NATURAL
VARIETALS:  MUNDO NOVO, YELLOW/RED CATUAI, ACACIA
CUPPING NOTES:  Chocolate Turtle | roasted peanut | toasted oak
ROASTER'S LEVEL:  DARK 


What's it all mean?
When we were planning to open the coffee bar in Gordon Square, we knew our espresso roast would be the magic ingredient to bring our many specialty drinks (and the bar itself) to life. Having studied roasting at the Espresso Academy in Florence, it was also essential that it could be enjoyed on its own. The goal was to make our own brew as memorable as the espresso we enjoyed in the cafes of Italy.

Many caffeinated days of experimentation resulted in the champion that won our hearts: a medium-roasted single-origin bean from Brazil that is altogether nutty, rich and velvety smooth. We are excited to be able to bestow that gift upon all of you with the release of Hi-Fi, our beloved bean-behind-the-bar. It will bring new fidelity to your home espresso, and also makes delicious batch brew. French press? All day long. 
Behind the bean:
Our espresso beans come from the Cerrado region of Brazil, which means "tropical savannah". The rich soils that the natives call "Terra Rosa" or "Red Earth", are ideal for producing consistently great specialty coffees. Hi-Fi is served daily at our cafe in Gordon Square.